Welkom bij De Kroeg Zeilberg
Café Bistro Zaal gevestigd aan de Blasiusstraat 7 te Deurne ( Zeilberg )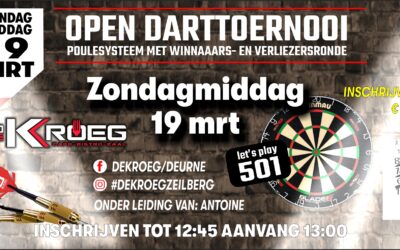 START TOT AAN DE RACE SAOEDI ARABIËAlle...
Kom kennis maken met ons heerlijke café bistro
Eten & drinken voor jong & oud
De Kroeg is een moderne bruine kroeg met een lekker hapje. Voor jong en oud, Heerlijk eten aan de bar, alle gerechten worden vers bereid. Eigen recepten die in samenwerking met de lokale leveranciers zijn ontwikkeld zorgen voor een hoge kwaliteit en een eigen smaak. Onze "Kroegbal" heerlijke gehaktbal van ruim 150 gram met speciaal gekruid gehakt en een pittige jus of een niet te vergeten Hereford burger. Dan is er ook nog het pikante kippetje maar ook bieden we een oude vertrouwde aan, het beruchte broodje APOLLO. Kijk op het menu wat er verder nog te smikkelen is. Voor ieder wat wils.
De Kroeg Deurne biedt een scala aan activiteiten aan voor iedereen die op zoek is naar leuk middag- of avondvermaak.
Als bruine kroeg kan natuurlijk het darten niet worden vergeten maar liefst 8 vaste dartbanen met led ringen en goede verlichting. Welke zijn gekeurd door de Peelland Dartbond. De dartbanen zijn vrij te gebruiken er worden ook toernooien georganiseerd. Diverse teams spelen mee in de competitie.
In De Kroeg zijn 3 biljartverenigingen gehuisvest hier worden diverse spelsoorten gespeeld libre, driebanden, kader, ankerkader. Er zijn natuurlijk ook nog de kaartspellen die zorgen voor een spannende gezellige biljartavond.
De zaal is uitgerust met top kwaliteit muziekapparatuur en discoverlichting, ideaal voor feesten en partijen. Tevens is onze zaal voorzien van beamer en tv schermen waardoor onze zaal zeer geschikt is voor (bedrijf) presentaties. Neem gerust contact met ons voor de mogelijkheden.
De Kroeg waar openbare events worden georganiseerd. de beste live muziek, dj´s, 25 up avonden met DJ's. Disco fever night.
Of je nu overdag van onze Bistro komt genieten of in de avond aan onze ruime bar wilt afsluiten, bij De Kroeg in zeilberg bedienen we onze gasten op alle fronten.